Mizpah Security & Training, Inc.
Executive Staff
Director/Chief Firearms Instructor
NRA and Massachusetts State Police Certified Firearms Instructor J. E. Fernandez, is the founder and Director/Chief Firearms Instructor of Mizpah Security & Training, Inc. in Holyoke, MA. The gun safety school is intended for serious students who expect superior training and personal attention. Mizpah Security & Training provides state required training for Massachusetts firearms licenses and permits, as well as specialty and advanced coursework in home and personal defense.
Through his dedicated teaching, J. E. goal is to instruct people to safely and competently use firearms for recreation and self-defense. His approach takes people from the unknown to the known in a very friendly and systematic way which is supported by patience and respect. His hands-on practical style reinforces understanding while simultaneously making gun safety training interactive and fun.
Meet the Director/Chief Firearms Instructor: J. E. Fernandez
Our Chief Firearms Instructor holds NRA Instructor ratings in Home Firearm Safety, Basic Rifle, Basic Pistol and Personal Protection in the Home. He is an NRA certified Range Safety Officer, Refuse To Be A Victim, and  is a Mass. State Police Certified Firearms Safety Instructor authorized to train and certify applicants for the License to Carry (LTC) Permits Class A, Class B, or FID. He is also a Utah BCI Certified Firearms instructor.
Certifications and Memberships in the following: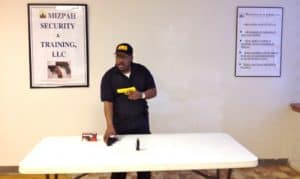 NRA Life Member

Holyoke Revolver Club Member

NRA Certified Firearm Instructor

Mass State Police Basic Pistol Certified Instructor

NRA Certified Home Firearm Safety Instructor

NRA Refuse To Be A Victim Certified Instructor

NRA Certified Range Safety Officer

Utah Bureau of Criminal Identification (BCI) Certified CCW Instructor
Executive Secretary Sara Michelle Simpson
Holyoke Office Coordinators Aaron/Melissa Booth
349 High Street, Holyoke, MA 01040 | Office (413) 883-4893 | Fax 1+ (877) 525-0420 | contact@mizpahst.com