We have COVID policies in place to keep our students safe!
We take cleaning very seriously- our equipment is disinfected after every class. all surfaces are wiped with alcohol in between any student practice. Hand sanitizer is readily available as well! We want you to be confident in the use of our facilities. Personal Face coverings will be expected on all participants for the next few months.
Mizpah Security & Training, Inc.
"Your Personal Defense and Firearms Training Professionals"
Welcome to Mizpah Security & Training, Inc.! This is your first step towards personal protection through concealed carry. You might ask yourself, why should I carry a concealed handgun? The answer is very simple, it is your right. You have the right to protect yourself,  your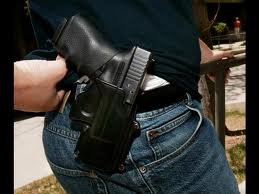 family and your property from criminals. In this day and time, personal protection is a must.
Crime is on the rise and it is almost impossible to watch the news without seeing a story about a robbery, assault, rape, kidnapping, home invasion or murder. Unfortunately, law enforcement officers cannot be everywhere at one time to combat the criminals. Why take that chance? If you are in a situation that threatens you or your family's safety, the concealed handgun that you carry in your holster, pocket or purse may be your only hope. No one ever wants to have to draw their handgun on a criminal but no one ever wants to be put in the position to have to make that decision either. At least you will have the option, if you conceal carry. Isn't it time for you to have protection through concealment.
Our goal at Mizpah Security & Training, is to teach law abiding citizens the basic knowledge, skills and attitude necessary for the safe and proper handling of firearms, and the laws that relate to concealed carry, the use of force and deadly force, non-violent dispute resolutions, proper storage practices for handguns, handgun safety, handgun usage and handgun proficiency. With the use of power point presentations, classroom visuals and open discussions, we make the learning process interesting and knowledgeable. We perform all notarizing of affidavits and passport photos that are required by the State of Massachusetts. Once you complete our class, you will have everything that you need to become one of the ever growing communities of concealed handgun license holders.
At Mizpah Security & Training, we are committed to teaching you everything from the Massachusetts Basic Firearms Safety Course, Connecticut, Florida, Maine, and Utah Pistol Permit to carrying a concealed firearm.
Every Mizpah Security & Training instructor is certified by the National Rifle Association and the Massachusetts State Police to teach many firearm specific disciplines. In addition to State Police and NRA credentials, our instructors maintain their education with many courses, including legal updates to ensure the material you receive is current and accurate.
The goal of our school is to expand the safe and legal use of Firearms for recreational, competitive and personal protection uses.
We offer small classes with a comfortable, relaxed learning environment. Our convenient Holyoke Headquarter is located at:
349 High Street, second floor City Market Place building.
**DISCOUNTS FOR VETERANS** (Must provide proof of Veteran eligibly)
Everything you need to get your license in just 4 hours!
349 High Street, Holyoke, MA 01040 | Office (413) 613-1567 | Fax 1+ (877) 525-0420 | contact@mizpahst.com